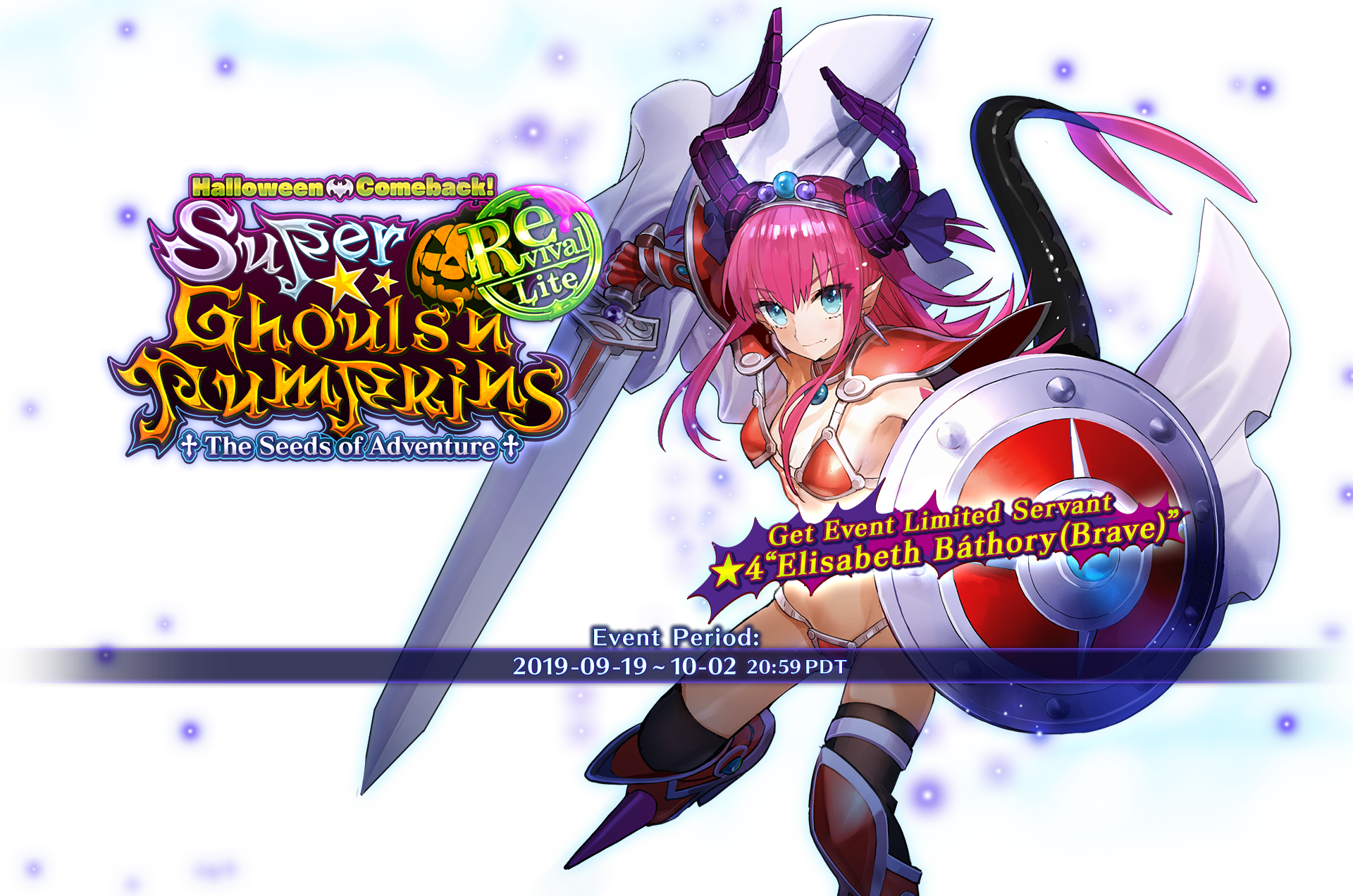 General Information
Guide is ready. Challenge Quest Portion will be added a bit later.
You can access the excel sheet guide here: Excel Sheet Guide
This Event provides you with a free 4* Saber Welfare Servant: Brave Elizabeth Bathory.

This Event will also provide you with a Holy Grail(Crystallized Lore if you got the Grail the first time) on completion of all the Main Quests.

The Event consists of 15 Main Quests along with 8 Different Free Quest and Challenge Quest Areas.
Main Quests are time-locked for 5 days, with a set being unlocked each day.
Completing a set of Main Quests will unlock Free Quest in the corresponding Area of the Main Quest.
Free Quest have 6 different difficulty and will provide you with Apples/Fruits of various rarity for you to use for this event or save for later.
The Highest Difficulty: "Demon King" or also known as "Beezelbub" will unlock on you complete all 15 Main Quests.
Challenge Quests will be available once you have cleared all the 15 Main Quests as well.
Challenge Quests are nowhere near as difficult as NeroFest's Exhibition Quests.
Challenge Quests however have various restrictions on what Servants you can use depending on the Area.
The Event will provide you Power Boost Items you can use in combat, similar to Onigashima.
The Event's Shop CE will provide bonus to enemy spawns.
Each Shop CE will provide 25% chance to double the spawns of the Specific monster I.E. If you have 5 enemies, you have 25% chance of getting 10 enemies instead.
When the Spawn CE's are Max Limit Broken, the rate will increase for 25% to 100%. Going beyond 100% rate does nothing. So MLB ASAP!
Infographic Courtesy of Kevinrealk: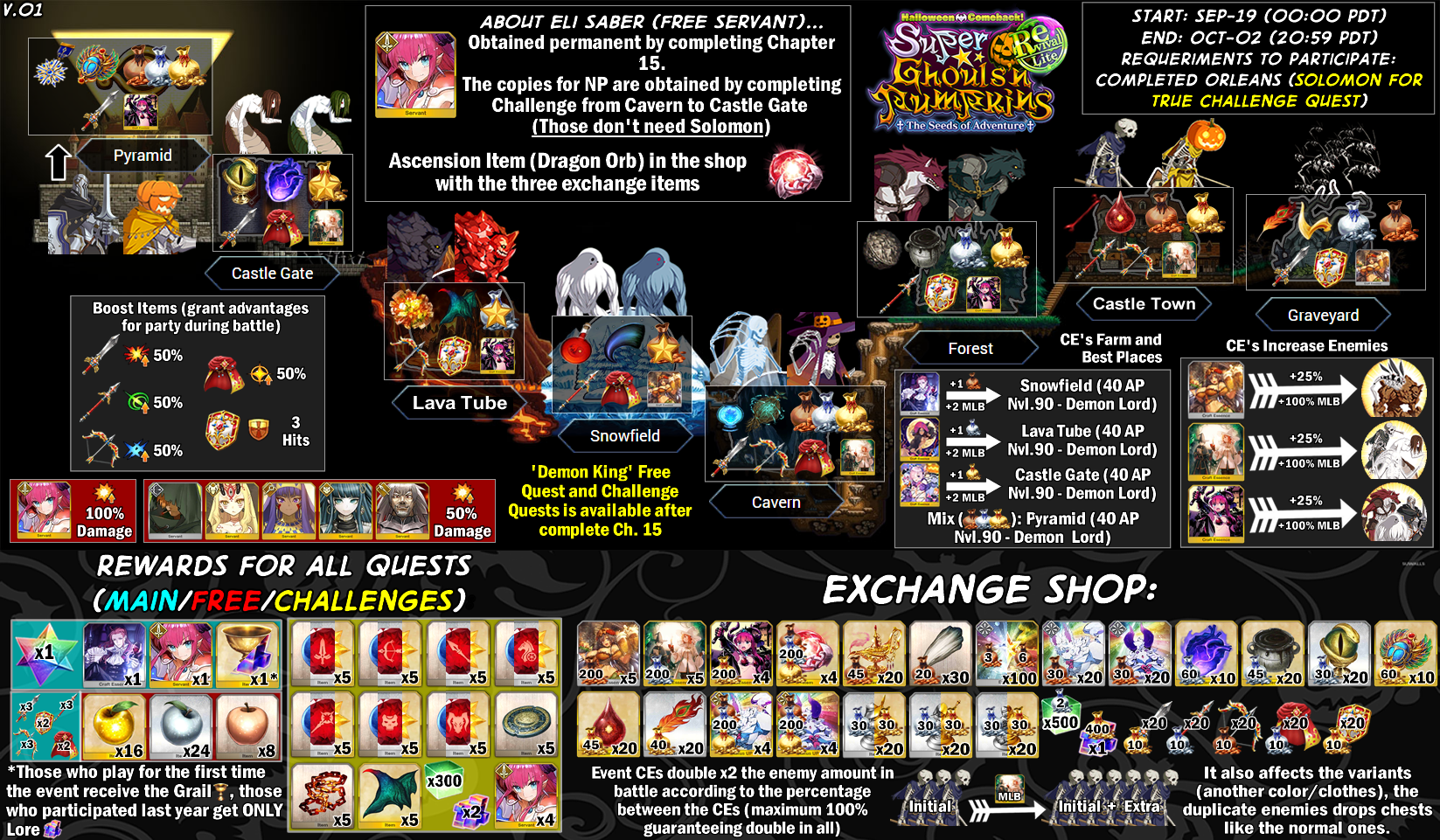 Event Progression
For the First 5 Days of the Event, Focus on clearing out the main quest and completing all the Free Quests for the apples. Save the Farming for later.
The Shop CE's are rather expensive as they currently cost 200 event currency each and there are 3 different Types of CE to purchase.
It is recommended that you focus on buying out the 4 copies of the 5 Star CE as it will come handy in farming Pyramid Node and it is a very good CE.
The other CE's you can ignore or you can comeback latter to get them, depending if you want to collect them or not.
Once you have completed all 15 Main Quest the Demon King/Beezelbub Difficulty will unlock in all areas. You can start farming for Event Currency at this point.
Main Quest Unlock Schedule
Each Day a new set of main quests and free quests will unlock with the 5th day having the final set. Once you have completed all 5 sets of Main Quests, you will unlock the new Demon King Difficulty. 
2019-09-19 00:00 – 10-02 20:59 PDT
2019-09-19 17:00 – 10-02 20:59 PDT
2019-09-20 17:00 – 10-02 20:59 PDT
2019-09-21 17:00 – 10-02 20:59 PDT
2019-09-22 17:00 – 10-02 20:59 PDT
As for farming you have two options:
The First Option is to farming for One event currency at a Time in the following locations(this will require you to buy all the Shop CE's to make it efficient):
Farm Demon King Difficulty on Tundra/Snowfield(Lancers/Berserkers) for Bronze.
Farm Demon King Difficulty on Magma Cavern/Lava(Riders/Berserkers) for Silver.
Farm Demon King Difficulty on Castle Gates(Lancers/Casters) for Gold.
The Second Option is to Farm all three Event Currency in one location Pyramid(Riders/Lancers) – You only need to buy out the 5 Star CE's from the Shop
If you don't have a lot of Event Gatcha Drop CE's and/or just want it easy, just farm the Pyramid Location as you only need the 5 Star CE from the Shop.

If you have a lot of Event Drop CE's, you can go with the first option.
Challenge Quests
Challenge Quests will unlock after you clear all the Main Quests.
Challenge Quests are much easier compared to Nerofest as the enemies have no special gimmicks other than the Servant Restrictions.
Most players can beat the Challenge Quests without the booster items, newer players can use the booster items to give them an edge.
Challenge Quests will reward you certain items such as Brave Liz Copies, Crystallized Lore, Etc after you beat them.
Support Setup Recommendation
NOTE: This is just a recommendation, you are free to go with as you see fit. You can make adjustments to your support as the rounds go by. 
Have Questions, Feedback, or just wanna chat? Join us on Discord:
This guide and site has been made possible from help and support from our contributors. If you would like to help us in our future works then you can support us through Patreon:
Lord Ashura needs coffee to make guides. If you want to buy me some coffee then click here!