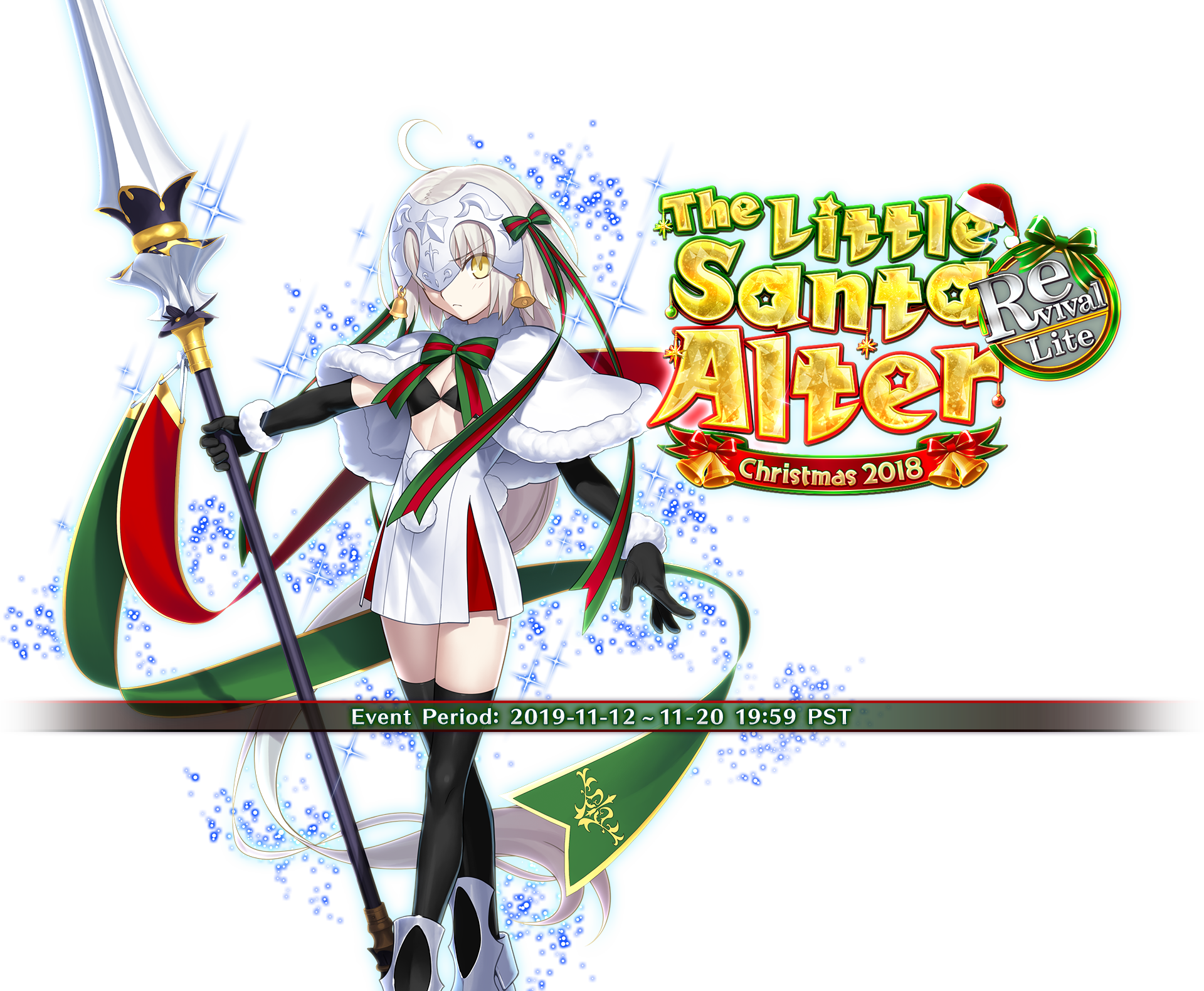 General Information
Excel Sheet Version can be accessed here:
Must Complete Orleans Singularity to Participate in Main Event.
Solomon Singularity must be completed to access Challenge Quest.
This is Event will provide you with Free 4* Welfare AOE Lancer Jeanne Alter Santa Lily. This is your last opportunity to get her.
As a Rerun Christmas Lotto, you can only open a maximum of 10 Lotto Boxes.

The First 4 Free Quests will be available on the first day, with the latter ones unlocking every 2 days.

This Event has Bonus Servants who will increase drops for specific Event Currency + 1.
The Event will provide you with a temporary Jalter Lily on the first day, you must clear All Main Quests and roll 5 lotto boxes to make her permanent!

The Event Shop CE – Holy Night Dinner, is a very good CE and is worth farming more copies for.

The Event Lotto will provide you with Buche de Noel, which can be exchange in the item shop for special items.

The Lotto will provide you with the following items: Bones, Void Dust, Serpent Jewel, Octuplet Crystals, Skill Gems along with the usual lotto items.

You may roll the lotto/exchange items a week after the Event is over.
Advice and Tips
You can only open 10 lotto boxes for this rerun. It is best to focus on farming Event Currency while grinding Stockings.

Save your Apples for the next Christmas lotto, you can clear shop and 10 boxes without using apples as long as you probably use bonus servants for drops.

You will want to buy out the Event Shop CE's ASAP as these CEs will provide you with bonus to Stocking Drops.

You must complete all the main quests and make sure to redeem the Silver Exchange Ticket from the 5th Lotto Box, or else Jalter Lily will Disappear!
You will want to farm the following areas for Event Currency with Natural AP Regen for the first two days(Avoid using apples if you can):
10 AP for Cheesecake – Use 3 * CE with: Mash, Mata Hari, Tawara, Kid Gil, Cursed Arm, Kotarou, Leonidas, Asterios, Caster Giles, Ushiwakamaru.

20 AP for Shortcake – Use 4* CE with: Jeanne Ruler, Jeanne Alter, Emiya Archer, Santa Alter, Martha, Jack.

30/40 AP for Fruitcake – Use 5* CE with: Ishtar, Jalter Lily, Amakusa Shirou.
On 11/13 – Farm 40 AP Powdery Snow for Cheesecake, Shortcake, and some Stockings.
On 11/15 – Farm 40 AP Oceanic Snow for Shortcake, Fruitcake, and good amount of Stockings.
On 11/17 – til the end of the Event Farm 40 AP Bloody Snow for Pure Stocking Farming.
Main Quests drop a decent supply of Stockings and a little bit of Event Currency, try to maximize your stocking bonus when doing them.
For Farming Bloody Snow, using Assassin Shiki with AOE Berserkers/Assassin and an Arash combined with a Waver is a potential method:
Wipe Wave 1 with Arash and make sure your team is setup so Waver can come in as replacement.

Use Waver's buff on the Team and have Shiki use her NP to kill the Midboss Dragon. – You can use Berserker Kintoki to do this job as well.

Use AOE Berserker/Assassin combined with Mystic Code Damage Boost to wipe the 3rd Wave.
Infographic Courtesy of Kevinrealk:
Support Setup Recommendation
This is a suggestion for what you should be using for your support setup. You are free to use whatever you have and see fit to use.
Have Questions, Feedback, or just wanna chat? Join us on Discord:
This guide and site has been made possible from help and support from our contributors. If you would like to help us in our future works then you can support us through Patreon:
Lord Ashura needs coffee to make guides. If you want to buy me some coffee then click here!